UniRelo Moving is one of the world's most trusted long distance moving companies.
Whether you are moving within California or cross country, we are professional movers that deliver with efficiency, flexibility, and value for your money. Wherever you go, UniRelo moving is there to help you make a successful move.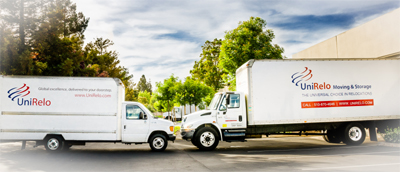 As your long distance intrastate & interstate mover, UniRelo Moving begins by understanding your needs and accurately estimating the size of your move so that there are no surprises later. Our sales team is equipped with the latest software and technologies to accurately size your move and our operations field staff have the training and tools needed to execute your move flawlessly. Then we present you with multiple options to fit your schedule and your budget. Among long distance moving companies, UniRelo has the agility to provide a custom moving fit that is just right for you.
If you will not be transporting all of your belongings at one time, UniRelo Moving offers many storage-in-transit options. Storage options are an ideal feature if you are renting a home temporarily, or if you are staying in a hotel before relocating permanently.
Our diversified range of relocation solutions continue to grow by following trends, continuously improving upon our standard services, and listening to the customer. Our unique, customer oriented service model has established our place as an industry leader. This allows us to make a distinctive and substantial impact for our valued clients.
We are licensed, bonded and insured by the California Public Utilities Commission, Federal Maritime Commission (FMC), and the Federal Motor Carrier Safety Administration.
Our Mission is to provide our long distance customers with personal attention, quality service and value for money. Every employee at UniRelo is experienced, motivated and trainedto deliver global excellence, to your doorstep.